Skip to product information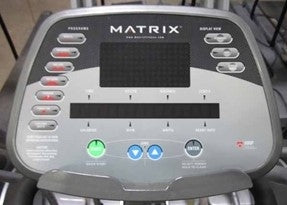 Matrix E5x Refurbished
Regular price
$2,395.00 CAD
Sale price
$2,395.00 CAD
Regular price
$6,975.00 CAD
The Matrix E5X provides a comfortable, efficient and low impact workout. The E5X does not require a power outlet and the brushless, maintenance-free generator provides power the moment you start using it. 21" stride accommodates all body sizes for a comfortable, efficient, and natural workout. Dual action (pedals and top handles move together). Cushioned/damped pedals make for the smoothest stride and Most Comfortable This machine offers the most natural feel for forward and backward motion.
Specifications:
-Dimensions (L x l x H): 70" x 29.2" x 68.5"
- Device weight: 398 lbs
- Maximum user weight: 400 lbs
-Stride length: 21"
-Resistance: 25 levels of resistance
SKU: MATRIX-ELLIP-E5X